In the apartment-centric style of city living that most of will have been familiar with at least at one stage or other in our lives, storage can be a serious issue, and when space is tight it can be difficult to squeeze all of your treasured belongings into one convenient space. Forget renting an expensive and time-consuming rental locker though, there are some things that you can do to maximise the space in your home that won't break the bank. All it requires is a bit of ingenuity and patience and you can easily create more storage space for your belongings. These days the internet (especially the incredibly inspirational site of Pinterest), is a fantastic place to seek some inspiration for your home. So whether you live in what is basically a shoe box, or simply have a growing family, check out some of these great and useful storage ideas that you can try out in your home.
Raise your bed.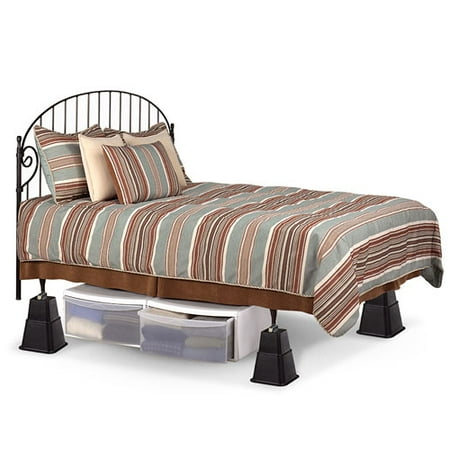 Many of us have dreams of fancy hotel-style beds that also boast handy drawers for clothes and bed linens underneath, but let's face it, for most of us those gorgeous beds are way out of our price range. Costing thousands of pounds each, the majority of us, especially if we are just making that first step onto the property ladder, will chose a budget IKEA bed over a top branded one. However, even with a budget bed, you can create some extra storage space thanks to the addition of some bed risers. You can pick these up from Amazon easily enough for around £20, and use them to elevate your bed. Many of them come with USB ports and outlets too meaning that you can add an easily accessible charger into the bargain as well. Once your bed is raised, you can easily use the extra height to store boxes and more!
Shelves in the wardrobe.
Even if you have a huge wardrobe, often it is difficult to make the most of the storage space, but that is easily solved with the addition of a few shelves. Most clothes these days don't require hanging thanks to crease-free technology, so make the most of this by adding some shelves for your clothes and even shoes. You can always make them removable so that you can change the combination as you like. Don't forget to roll your clothes too to keep things neat and to fit more in!
Shower curtain with pockets.
If your bathroom is a bit of a box and you find that space is perpetually tight, then splurge on one of these handy shower curtains with pockets where you can easily store all of your bathing products without forgetting where they are. You can pick up one of these handy curtains for under a tenner online, and once you have one you'll wonder how you ever managed before without it! Particularly handy in a flat share where there is also that one flatmate with an explosion of products, solve this problem with this neat and tidy storage solution.